The emergence of the metaverse is not just a fantasy, but a forward-looking idea of the future world, especially in the rapid development of 5G, big data, artificial intelligence, VR, and AR technology, making the landing of the metaverse possible. In this new round of horse-racing movement, the tech giants are already creating their virtual worlds.
For example, users can wear VR and AR devices to interact with others to meet basic social needs; the introduction of the NFT system also financialize everything in the metauniverse, and the NFT in the metauniverse can sell for almost the same price as the real skin, surprising many people who are confined to traditional thinking. More importantly, the meta-universe business will use virtual people, virtual objects and virtual offices, and other scenarios to diversify the ecology, provide a full range of services for the brand building of customer enterprises, and provide consumers with a deeply immersive experience.
The Metaverse office is coming
Today, the Meta-Space office and immersive experience open unlimited possibilities for customers in all walks of life, from building more emotional connections with consumers, and reshaping employee experience and collaboration, to optimizing engineering based on digital twin technologies, manufacturing, and operations, shaping industry-specific use cases. If the previous popularity of computers enabled the public to experience intelligent office intelligence, then today's meta-universe covers not only words and numbers, but also hearing, vision and touch. A new world is opening up, which may change the form of the workplace office.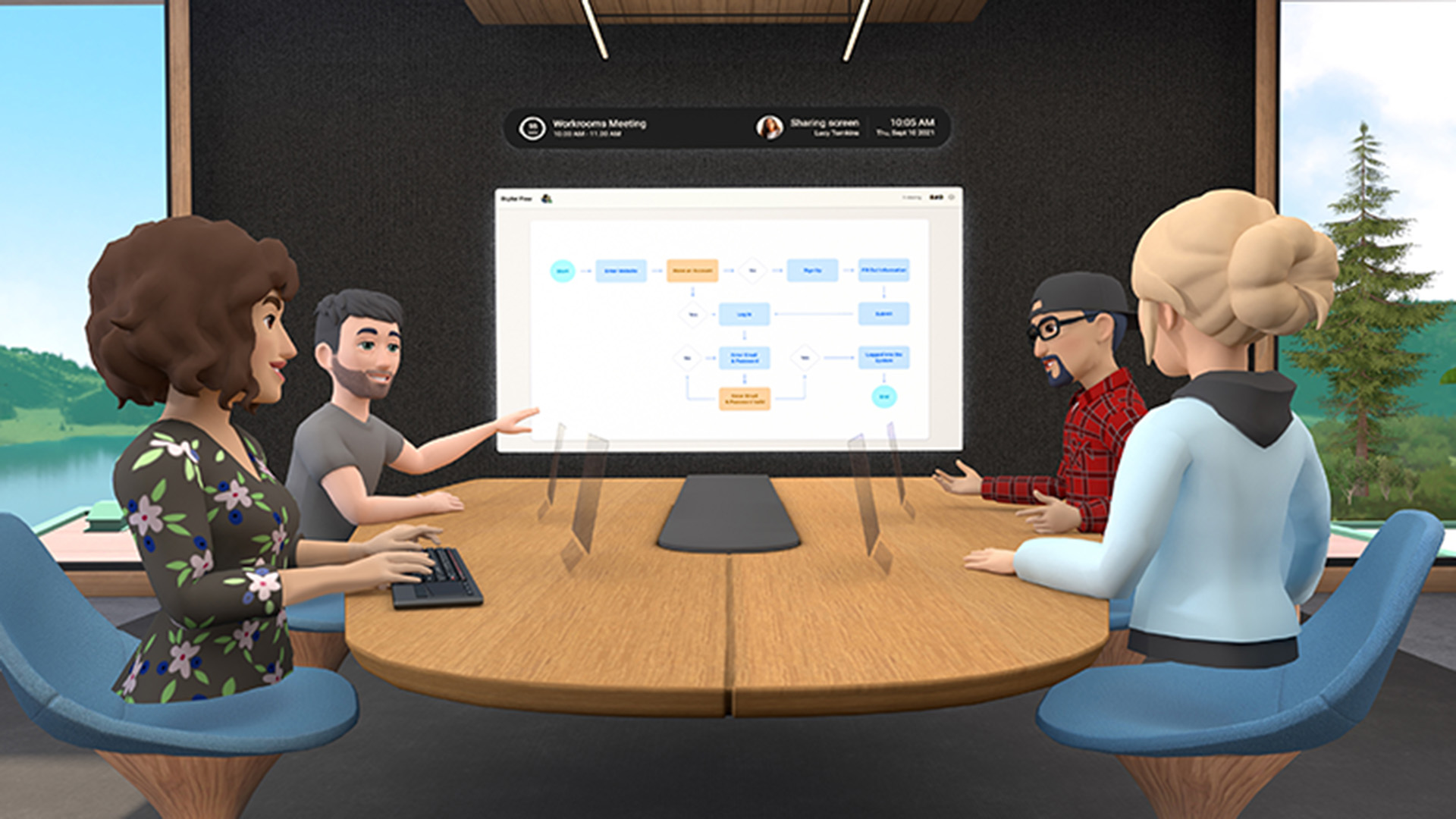 Earlier, Microsoft (MSFT) released a new global workplace trends report, Great Expectations: Making Hybrid Work Work, continuing to focus on the mixed office trend in the epidemic era (and post-epidemic era). Microsoft pointed out that the hybrid office model is the most potential working model in the future, and as a new medium of hybrid office model, young people are increasingly interested in the meta office brought by AR / VR.
In 2021, some companies will turn to the AR / VR office. Microsoft experts said: " Virtualization and the meta-Universe make us closer to the 'thousands of miles apart, but like together' feeling. Using virtualization bodies in meetings can make people feel more focused, more immersive, and even more comfortable. People can talk to each other's body language, and talk back and forth.
In addition, Metamogram Office is also one of the things that Meta(META) has been developing. Horizon Workrooms is a VR remote collaborative office app launched by Meta that provides a variety of valuable tools for users who want to brainstorm and collaborate in VR. It uniquely combines professional tools, designed specifically for VR, including wireless desktop streaming, keyboard tracking, video conferencing, mixed-reality notes, and hand tracking, and much more.
The introduction of VR devices has strengthened the immersion and interaction of the Meta metauniverse office scene. For example, in addition to language communication, users can also make gestures and squeeze faces to make the interaction more natural. To further create a sense of reality, Horizon Workrooms supports us to match the real-world desktop height to the keyboard and a virtual office, where the real-world input content can be mapped to a virtual office computer in real-time.
There is no doubt that the biggest change metaverse technology has made to the office than the previous stage of telecommuting is to increase its sense of presence and immersion. In this way, both productivity and business efficiency have been greatly improved, and many young job seekers are attracted by this novel way of working. It is understood that Xiao Zha is very optimistic about the application of the future metaverse office scene, he said that people would be surprised by the end of 2030, that people have not used VR as the main office equipment.
WIMI 5G holographic communication application scenarios
For now, many companies are designed for technology to help people better interact with technology. As the latest generation of mobile communication technology, it can be seen that 5G is providing comprehensive enabling and upgrading for the industry's digital infrastructure, shaping the ubiquitous intelligent infrastructure in the era of 5G Internet of everything, and continuously providing new momentum for the practice of industrial intelligent scenarios. Combined with 5G's capabilities of large bandwidth and low latency, 5G + applications have also penetrated all walks of life, including live broadcasting, education, industry, conference, and other industries.
With the development of science and technology, also thanks to the vigorous deployment of 5G, the holographic communication industry is about to explode. The holographic remote calls appearing in the previous science fiction movies may be fully implemented in the 5G era. It is understood that WIMI Hologram Cloud (NASDAQ: WIMI) follows the opportunity of the 5G era, aims to build the 5G holographic application market, and has established a complete holographic technology research and development system, holographic content production and reserve system, and holographic commercialization system. High-end applications such as holographic interactive entertainment, holographic conference, and holographic press conference are gradually spread to holographic social networking, holographic communication, holographic navigation, and holographic home applications, and multiple innovative systems support holographic cloud platform services and 5G communication holographic applications.
It is worth noting that WIMI 5G holographic communication is a full-dimensional portrait video technology system, creating a real interactive experience for users to fully engage in video communication. By constructing a multi-angle modeling system for real-time shooting, the full-dimensional image scanning of the collected object is performed. At the same time, WIMI uses image real-time rendering, voice recognition technology, and voice simulation technology to present virtual people, create virtual meeting immersive visual experience, implement the super sense of presence, collaborative sharing, convenient intelligence, and make the remote meeting more real, make telecommuting more smooth, inspired the huge market space and prospect trend.
Conclusion
According to Forester Market Consulting's survey of information workers around the world, more and more companies are joining in developing immersive solutions beyond 2D video conferencing, as they want to recreate the face-to-face communication experience in a simulated environment. Immersive virtual environments are constantly improving in maturity and user experience, and are worth exploring by highly remote teams.
In the post-epidemic era, with the development of 5G technology and the "metaverse", the future office environment can be displayed through a virtual form, and employees can work through 5G, VR, and even MR, when the work efficiency will be greatly improved. And in the virtual reality office, entertainment, and so on, maybe we can look forward to this future.